In a hurry? While you wait service
If you need a specific piece of class straight away, we can help.
We offer a while-you-wait service to make things really easy for you.
To find out more click here.
New website
Welcome to our new website – part of our commitment to ongoing excellent customer service to help make things easier for you to choose your perfect glazing option from our range. We will be adding to this website shortly.
Quality suppliers to the top park home manufacturers
We supply many park home owners and manufacturers and can add windows at the planning stage or after your home is built.
Welcome to Woodford Glass.  Our aim is to provide a friendly, easy to access service to those looking for extra special glazing touches for their home, or for practical solutions to glazing requirements.
Our reach is two-fold – we're a friendly local firm with very easy access to those in the Northamtonshire area for glass cut while you wait and we also have a wide national customer base for leaded and film window options.
Whatever you need from a glazing perspective feel free to give us a call as we can nearly always help – with a quarter of a century in glazing we've got a great track record in providing exactly the right option for our customers, at the right price too.
Our range
Looking for something a bit special?  
We have hundreds of options on offer – take a sneek peek at our galleries for a preview..
You only get one chance to make a first impression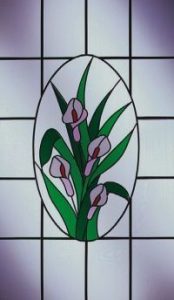 The first thing visitors to your home see is usually see is your front door, so you might as well make it memorable.
Our bevelled glass options have a richness and depth to make your door glazing look really special.
It doesn't stop there either, you can use our bevelled designs on any interior door throughout your home.